India's consumption of Russian oil was just one-sixth of European consumption and should not be compared unfavourably, said External Affairs Minister S. Jaishankar, defending the government's decision to increase its intake of Russian oil since the war in Ukraine, that was discussed in his talks with visiting German Foreign Minister Annalena Baerbock on Monday. Ms. Baerbock's visit coincided with the launch of an "oil price cap" plan by the G-7 and European Union countries to withdraw shipping and insurance services to countries that buy Russian oil above the price of $60 per barrel.
"In the months following the Ukraine war, European countries have imported more Russian fossil fuel than the next ten countries combined," said Mr. Jaishankar, when asked by a German journalist if India would consider decreasing oil imports, especially as it assumes the G20 presidency. "Europe [can't] make choices which prioritize its energy needs, and then ask India to do something else….Most governments in the world, European governments get it (understand India's policy). I wish European media also got it," he added.
The two sides said they held talks on bilateral issues, including Germany's assistance to India on renewable energy and energy transitions, as well as international issues like their Indo-Pacific strategy, and spoke about China, Afghanistan and Pakistan. At the end of talks, India and Germany signed a comprehensive partnership on migration and mobility meant to ease travel for research, study and work for people in both countries, which Mr. Jaishankar said would be the "basis for a more contemporary partnership" to relations.
Editorial | Welcome pragmatism: On India's G20 presidency 
However, the two governments did not appear to make any headway on the contentious issue of 22-month old "Baby Ariha". Ariha Shah was taken into childcare by German authorities in September 2021, alleging that she had been abused at home, a charge her father, a software employee posted in Germany, and mother deny. While the criminal investigation was closed without charges against the parents, German Youth Welfare department overseeing the case has not released the child to the parents until a court adjudicates the custody case. Ms. Shah's parents, who are demanding that the baby be allowed to stay with the family in Ahmedabad, amidst their traditional Jain beliefs and vegetarian diet, went on a hunger fast last month demanding that PM Modi and Mr. Jaishankar take up the case.
"We have concerns that the child should be in her linguistic, religious, cultural and social environment. This is her right. Our embassy is pursuing the matter but it was also a matter I brought up with the minister," Mr. Jaishankar said during a press conference with Ms. Baerbock.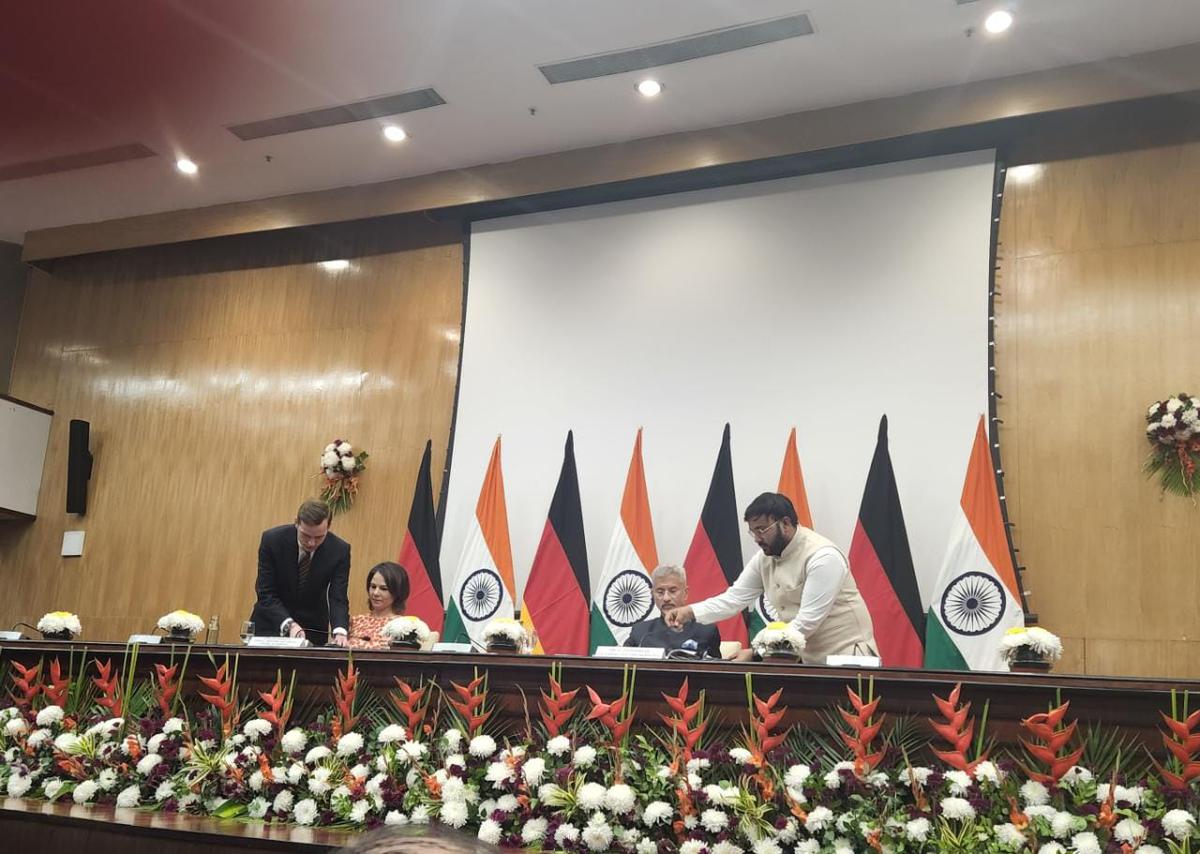 The German Foreign Minister said that as herself a mother of two daughters, she believed that the well being of Ariha Shah was very important.
"I can assure you that the child is well and for everybody in India and Germany, the child's well being is the first priority…Children are only taken into custody by our Youth office when there are serious concerns about their well-being like violent sexual abuse or severe neglect," adding that after the court gives its verdict, the matter could be reviewed.
Mr. Jaishankar said that he had also spoken about the challenge of cross border terrorism from Pakistan.
"We engage Pakistan on bilateral issues, but the challenge is today that we cannot have talks while there is terrorism, and I think there was some understanding from the German side on this." Ms. Baerbock had earlier clarified her remarks calling for a United Nations role in Jammu Kashmir, human rights concerns and in mediating between India and Pakistan, telling The Hindu in an interview that Germany believes India and Pakistan must resolve their issues bilaterally.
In her remarks to the media on Monday, Ms. Baerbock said that she had an "open exchange" with Mr. Jaishankar on the issues of "human rights, democracy, trust in an order based on the law", but didn't furnish further details. The German government has in the past expressed concerns about the Modi government's actions against journalists and NGOs.
"We are connected to India in a partnership of people to people ties and values – as the biggest democracy, India is exemplary and a role model for other countries," she added in response to a question comparing German ties with China and India, particularly given German Chancellor's visit to Beijing to meet Chinese President Xi Jinping last month.
On Tuesday, Ms. Baerbock will interact with human rights and women's rights civil society representatives, meet with officials at the Election commission, and will make a visit to villages that use renewable energy power sources, before returning to Germany.