The Parliament resumed proceedings for the day at 11 a.m.
Rajya Sabha was adjourned early on in the day following disruptions. The Upper House resumed proceedings at 12.00 p.m. with the Question Hour. Before the adjournment, Leader of Opposition Mallikarjun Kharge briefly addressed the House and clarified that some sections of the media had incorrectly reported what happened on December 14 when Deputy Chairman refused to allow the matter on Chinese transgression in Arunachal Pradesh.
In Lok Sabha, Women and Child Development Minister Smriti Irani dismissed India's ranking in the Global Hunger Index, terming the indicators as "flawed".
Lok Sabha passed The Constitution (Scheduled Tribes) Order (Third Amendment) Bill, 2022, to include the Hattee community of the Trans-giri region in Sirmaur district of Himachal Pradesh in the ST list of the State. The House then discussed Private Members' Business.
Explained | What's on agenda for the 2022 Winter Session of Parliament?
To get a rundown of the day's developments in Parliament in your inbox, subscribe to our Parliament Watch newsletter here.
Members speak on Private Members' Business on welfare of Anganwadi workers

MP Abdussamad Samadani of the IUML, speaking during the Private Members' Discussion on the welfare measures for Anganwadi workers and helpers, suggests that their wages should be enhanced and should be paid a pension. He says that the Anganwadi workers should be brought under the ESI scheme and should be recognised as government servants. He says that the Anganwadi workers should be imparted better training.
N K Premachandran of the Revolutionary Socialist Party said that there is no "stringent and strict guidelines" for recruitment of Anganwadi workers and helpers. He alleges that the current appointments are "totally political" and "according to the whims and fancies of the concerned panchayat member, whichever party is ruling the panchayat." He also raises the issue of salaries for Anganwadi workers. He says that the salary for an Anganwadi teacher is less than Rs. 12,000 per month in Kerala and for Anganwadi helper is less than Rs. 8,000. He suggests that Anganwadi workers and helpers should be regularised as "last grade servants" of the central government or the State.
He further says that ESI benefits should be extended to Anganwadi workers and helpers. The workers do not get any benefits since they neither belong to unorganised sector nor are they government employees. He observes that the infrastructure in Anganwadis are "pitiable" and urges the Centre to introduce a scheme to improve the Anganwadis.
Row over time taken by Rakesh Sinha to discuss Biplab Deb's resolution

Before leaving the Chair, member L. Hanumanthaiah repeatedly asked BJP's nominated member Rakesh Sinha to conclude his speech on the 'agarwood' promotion resolution introduced by Mr.Deb. The Chair pointed out that Mr. Sinha had spoken for nearly 30 minutes.
Soon after, member Bhubaneshwar Kalita took the chair, asking Mr. Sinha to continue amid objections by opposition members over the amount of time taken to discuss Mr. Deb's resolution. Mr. Sinha asked why the Opposition had a problem disucussing an issue of a sector that deeply imacted the tribal population of Assam and Tripura.
Leader of the House Piyush Goyal criticises Opposition for disrupting the debate

RJ(D) Member Manoj Kumar Jha invokes Rule 259 and supports senior member Vaiko's call to present a resolution on Centre-State relations, adding that he supports Mr. Deb's resolution on agarwood, but plenty of time has been allotted to it. Leader of the House Piyush Goyal criticises the Opposition for invoking Rule 259 (regarding Chairman's power to preserve order and enforce decisions) and disrupting Mr. Deb's resolution because they feel that there is another important issue and the current issue can be "glossed over".
Chiar L. Hanumantaiah says Mr. Vaiko (MDMK) is not asking to curtail Mr. Deb's resolution but just requesting that he be given a chance to introduce his resolution and other members are merely suplimenting his request.
Lok Sabha passes The Constitution (Scheduled Tribes) Order (Third Amendment) Bill, 2022

The House now continues the discussion on The Constitution (Scheduled Tribes) Order (Third Amendment) Bill, 2022. Several members speak about the demands of many communities from their respective States to be added in the Scheduled Tribes list. The Bill seeks to include the Hattee community of the Trans-giri region in Sirmaur district of Himachal Pradesh in the ST list of the State.
Minister of Tribal Affairs Arjun Munda, replying to the discussion on the bill, said that concerns regarding land alienation have been noted. He says that land is a State subject and the States should assure that land alienation does not happen. Following the Minister's reply, the Bill was put to a voice vote and was passed by the House.
The House now moves to hear Private Members' Business.
CPI member says Biplab Deb's resolution is a "distraction" 

Kerala MP Sandosh Kumar P. says Mr. Deb, who is the former Chief Minister of Tripura, could have submitted a memorandum to the government about the promotion of agarwood. Issues like this, he says, are a "distraction" and "delaying tactics" when other burning issues about the farmers and about the country's federal structure remain to be discussed. 
 BJP MP Biplab Deb moves resolution for promotion of Agarwood economy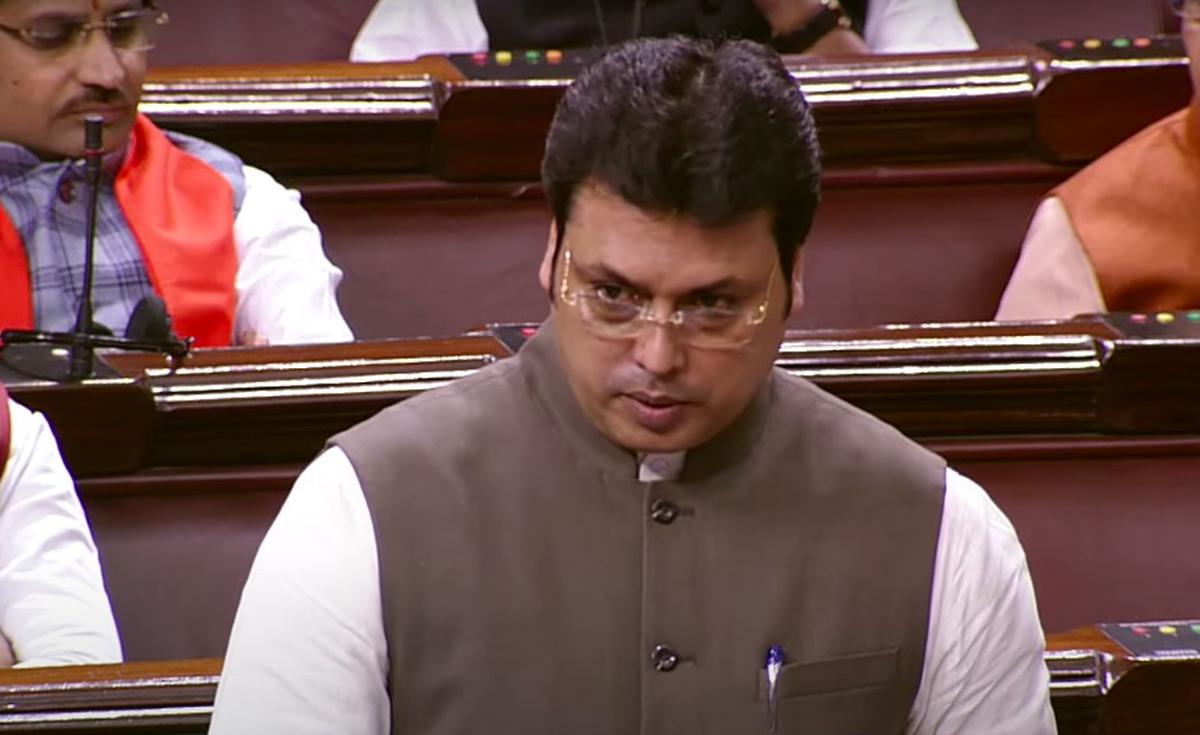 The Tripura member's resolution urges the government to set up an Agarwood Board of India and support it for more scientific efforts to increase the production and productivity of agarwood, provide adequate welfare measures for agarwood cultivators, support research and development and provide adequate incentives to young entrepreneurs for the holistic development of the agarwood sector.
What is agarwood?

Agarwood or 'oud' a tree bark extract, is used to make perfumes; pure agarwood chips are also burnt as incense called 'bakhoor' on ornate charcoal burners called 'mabkharah'. Although oud has become synonymous with the gulf and the Arab world for decades, it has an age-old Indian connection. Important agarwood reserves are in the south Asian forest belt (Assam, Burma, Cambodia and further South-East), Assam being one of the important agarwood reserves.
Mr. Deb says that agarwood is one sector through which Assam, Tripura, and one part of Karnataka, in the next two years can give the Indian government an economy worth Rs. 2 to 2.5 thousand crore. He says that because there are restrictions on agarwood exports in India, illegal export is taking place and the government is not able to avail the benefit of this economy. 
Upper House resumes, Private Members Business (Resolutions) being taken up 

Deputy Chairman Harivansh Narayan Singh is in the Chair.
What is Private Members' Business? 

Every member of Parliament, who is not a Minister, is called a Private Member. Every Friday, the latter part of the sitting of a house may be allotted to the transaction of "Private Members' Business", i.e, Private Members' Bills and Private Members' Resolutions. Business relating to Bills and Resolutions is transacted on alternate Fridays.
A Private Members' Bill is the only way for a non-minister MP to propose a legislation on a matter of general public interest. Meanwhile, a Resolution may be submitted by a Private Member in the form of a declaration of opinion, or a recommendation; or maybe in a form so as to record either approval or disapproval by the House of an act or policy of Government. Notably, it's been fifty years since a legislation proposed by a private Member of Parliament was actually enacted into a law.
Lok Sabha resumes

The Lower House resumes and takes up Matters under Rule 377.
Lok Sabha adjourns

The Lower House has been adjourned for lunch. Proceedings to resume at 2.20 p.m.
Global Hunger Index rank does not reflect India's true picture: Smriti Irani

Women and Child Development Minister Smriti Irani dismissed India's ranking in the Global Hunger Index, terming the indicators as "flawed", in a reply to Lok Sabha on Friday.
"Indicators of global hunger index are flawed and do not reflect the country's true picture," she said.
Ms Irani also spoke about the steps taken by the Central government to provide sufficient funds to meet the inflation effect and fix accountability under various schemes. 
Rajya Sabha adjourns

The Upper House has been adjourned for lunch after a discussion on topics related to agriculture and MSP. Proceedings will resume at 2.30 p.m.
TMC MP urges Centre to provide financial aid for Calcutta Medical College

Trinamool Congress MP Sudip Bandyopadhyay in Lok Sabha on Friday asked for financial assistance for Calcutta Unani Medical College and Hospital, which has been suffering from a huge financial crunch. "Whether government of India can look into the issue and take it up with the State government for financial assistance by which this very institution can survive," asked the TMC MP.
DCW chief seeks discussion on women's safety in both houses of Parliament

Delhi Commission for Women chief Swati Maliwal on Friday wrote to the Lok Sabha speaker and Rajya Sabha chairman urging them to suspend the day's business in both houses of Parliament to discuss the issue of women's safety on the 10th anniversary of the Nirbhaya gangrape incident.
Crimes against women have reached an "epidemic proportion", she said, while highlighting that six rapes are reported in the national capital every day.
Ms. Maliwal also highlighted the recent acid attack on a 17-year-old girl in west Delhi. – PTI
Adequate support given to all States on welfare schemes for children: Smriti Irani

Union Minister Smriti Zubin Irani's responded to question raised during Question Hour in Lok Sabha regarding schemes for children: "When you look at the issue of accountability, all angadwadis in the country are enabled through the portion tracker where data is everyday is put in by anganwadi workers and district administration. Accountability is affirmed technologically and also in collaborative attempts with State governments who inform us infrastructural and other cost challenges. Given the inputs received from the States and understanding the trends, adequate support has been given to all States, including when States and districts want to indulge in innovative practices to meet the challenge of malnutrition. Our ministry does not work in isolation, 18 ministries collaborate to ensure that challenges are met through convergence of effort."
Rajya Sabha proceedings resume with Question Hour.
FM Nirmala Sitharaman responds to Nadimul Haque's statement

Ms. Sitharaman says, "In the last 6-7 months, I've had personal meetings with RBI representatives and with my secretaries in the ministry, and action from the RBI's side and also from our side, inclusive of Corporate Affairs Ministry, has been initiated in this matter…There is a coordinated effort to contain such apps and also to take action against those misusing (it)."
The minister's response gets interrupted with calls of "there is time to listen to app problems but not Chinese transgression", to which she responds that the Congress party is trying to prove that the problems of "common man" are not their problems.
MP Nadimul Haque raises the issue of unethical practices of digital lending apps 

The rates of interest charged by these companies is much higher than traditional banks, the MP says. "They are becoming extortionate, and their processing fee is as high as 1% to 5.3%. They are charging interest from 14.5-38.5% per annum, which is very high," Mr. Haque says.
Many illegal lending apps are also not under the ambit of RBI, he adds. "Most of these apps are Chinese. They offer small loans without much paperwork, and then they bully the customers who are unable to repay the loans on time." He also informs the Parliament that one person committed suicide in 2020 for "a very small loan of ₹3,000" as the app gains access to user's images and contact lists and use them to harass the customers.
Congress MP gives adjournment notice to discuss India-China border situation

Congress MP Manish Tewari on Friday gave an adjournment motion notice in the Lok Sabha to discuss the situation at the border with China.  "I hereby give notice to ask for leave to move a motion for the adjournment of the business of the house for the purpose of discussing a definite matter of urgent importance, namely – That this House do suspend Zero Hour and relevant rules relating to Question Hour and other businesses of the day to have a detailed discussion on the grave situation at the border with China in the Tawang sector in Arunachal Pradesh," Mr. Tewari stated in his letter to Seceretary-General, Lok Sabha.
The matter of Chinese transgression in Arunachal Pradesh is of extreme importance for national security: Mallikarjun Kharge

"As the Leader of the Opposition (LoP), it is my duty to stand with the feelings of the parliamentarians and demand immediate steps to deal with this issue," Mr. Kharge says. He also adds that the Deputy Chairman refused to allow the matter on December 14 because a prior notice had not been given, but some sections of the media reported it as he was stopped. "The impression is far from the reality," the LoP says.
Rajya Sabha | 11. 10 a.m.
Rajya Sabha proceedings begin

Deputy Chairman Harivansh Narayan Singh is presiding over the proceedings. Members are laying the Papers on the table of the House.
Proceedings of the House begin with Question Hour

Speaker Om Birla is greeted to chants of "Jai Shri Ram" as he enters the House, to which he responds, "Aj mahaul acha hai na (the atmosphere today is good, right?)."
RECAP | States can enact laws on uniform civil code: Kiren Rijiju

States are empowered to enact personal laws that decide issues such as succession, marriage and divorce, in their endeavour to secure a uniform civil code (UCC), Law Minister Kiren Rijiju had informed the Rajya Sabha on December 15.
The Minister made these remarks in a written reply to a question posed by Communist Party of India (Marxist) member John Brittas, asking whether the Centre was aware of the States formulating their own laws with respect to the UCC.